CE Radon Testing
CE Radon Testing Service – CE Radon Testing assist the residents of Maryland, DC and Virginia with radon gas indoor monitoring by providing hourly gas measurements. All technicians are licensed by NRPP, National Radon Proficiency Program and equipped with the best CRMs , continuous radon monitors in the industry, approved by the US EPA .
Call or Text Now MD, VA DC: 301-275-5640 
The National Radon Proficiency Program serves as the credentialing and certification division of AARST and is recognized as the nation's leading certification program for radon professionals. Radon gas sampling is performed according to ANSI-AARST Standard Protocol for Conducting Measurements of Radon in Homes.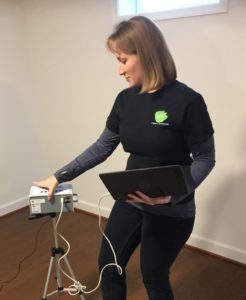 Radon is a radioactive gas which does not have taste, smell or color and it is a big health concern in DC metropolitan area due to soil structure of the region. Geological map of these states shows lots of metamorphic rocks which contains uranium. The higher the uranium level is in an tested location, the greater the chances are that houses have high levels of indoor radiation too.
Call or Text Now MD, VA DC: 301-275-5640 
Most territory of Maryland land has been designated as RED Zone 1 area with Radon level higher then 4.0 pCi/L . The US EPA assigned Action Level for radon is 4.0 picocuries per liter of air . The risk of developing lung cancer at 4.0 pCi/L is estimated at about 7 lung cancer deaths per 1000 persons. It is important to note that the action level is not a safe level, as there are no "safe" levels of radon gas.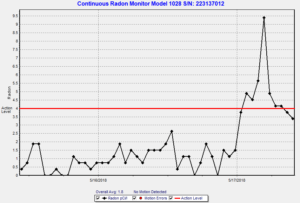 CE Radon Testing Services Website
The US EPA, Surgeon General, American Lung Association, American Medical Association, and National Safety Council recommend testing your home for radon because testing is the only way to know your home's radon levels.
Our team of licensed radon measurement professionals fully comply with Radon law of October 2016 regulations in Montgomery county for Real Estate contract of Sale and Radon Testing contingency requirements.
Short-term Radon Test is a great option during real estate transaction when time is limited. The test must run by the state required minimum for 48 hours. The detailed report with the hourly readings is emailed to the client within 2 hours after monitor is retrieved from the building.
Call or Text Now MD, VA DC: 301-275-5640 
CE Radon Testing ℠ MD VA DC is serving following areas:
Maryland: Baltimore, Annapolis, Columbia, Silver Spring, Dundalk, Wheaton, Ellicott City, Germantown, Bethesda, Frederick, Gaithersburg etc.
Virginia: Arlington, Alexandria, Falls Church, Fairfax, Fredericksburg, Manassas etc.
Washington DC
Call or Text Now MD, VA DC: 301-275-5640 
CE Radon Testing ℠ is servicemark operated by Calamus Enterprises Llc
Featured articles :
https://www.nasdaq.com/press-release/diy-radon-test-kit-vs-onsite-instant-radon-test-20180524-01358
https://finance.yahoo.com/news/scary-reality-radon-importance-testing-133100932.html
https://finance.yahoo.com/news/silent-killer-home-radon-gas-151500779.html
CE Odor Removal ℠, CE Radon Testing ℠ , CE Kitchen Cleaning ℠ and CE Bathtub Refinishing ℠ are servicemarks operated by Calamus Enterprises Llc. Calamus Enterprises Llc is not responsible any damages (health and property) caused by the service. All services rendered hereunder shall be provided in accordance with all ordinances, resolutions, statutes, rules, and regulations of ATN and any Federal, MD State or local governmental agency having jurisdiction in effect at the time service is rendered.