CE Odor Removal
CE Odor Removal – Through Ozone Shock Treatment, CE Odor Removal has shown proven success for eliminating unpleasant smell from any home or business building. We are specialized in cigarette, tobacco, cigar smoke, food smells, curry, burned food odor removal.
Call 240-394-6344 for Odor Removal Service!
Call or Text Los Angeles area: (323) 515-9552 for Odor Removal Service!
Cigarette smoke odors can be annoying for non-smokers. Moreover, it creates a huge problem for homeowners, realtors, sellers and buyers, landlords, and property managers. Smoking smell is typically masked by using air spray fresheners. However, such temporary solution only hides the odor with some fragrance and don't solve the real issue. Odor comes back as soon as air freshener is gone. It doesn't eliminate the smell entirely nor remove the source of odor. CE Odor removal offers advanced Ozone Shock Treatment for an odor indoor problems! Ozone destroys the source of smell at a molecular level, sanitize the perimeters and permanently remove unpleasant scent from office, home, gym, hotel, basement, nursing homes, restaurants and hospitals leaving absolutely no trace of odor at all.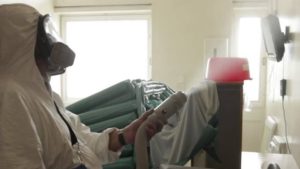 Our commercial grade powerful Ozone generators can handle this smelly and unwanted problem for you. We work with small apartments and with largest commercial buildings. However, every space is unique and require customized resolution. For example, the source of the odor, as well as how deeply it integrated into the walls, is just as important as the actual size of the space. Some areas can be treated in a short period of time, whereas other areas of the same size will take longer.
Proper ozone treatment must occurs in unoccupied space, with sufficient time given for the ozone to return into safe, breathable oxygen. Ozone leaves no residue, it does not damage the furniture.
We guarantee that our Ozone Shock Treatment is safe and eco-friendly process. Ozone will safely neutralize any unwanted odors reverting back into safe breathable oxygen after the procedure is complete. In addition,ozone sanitation process kills bacteria and viruses, makings ozone treatment is a perfect solution for '"sick building" syndrome.
Ozone Shock Treatment is Organic cleaning power of nature which we bring to any facility or business to remove the odors!
CE Odor Removal MD, DC Website
CE Odor Removal Virginia Website
CE Odor Removal Southern California Website
CE Odor Removal Chicago Website
Call 240-394-6344 for Odor Removal Service!
Call or Text Los Angeles area: 323-515-9552 for Odor Removal Service!
Pricing for odor removal, prices starting from and are only a guide:
48 h ozone treatment only
 0 – 600 sqft from $450
601- 1000 sqft from $450
1001- 2000 sqft from $500
2001 – 3000 sqft from $600
3000 – and more call for a price
CE Odor Removal ℠ is servicemark operated by Calamus Enterprises Llc
Featured articles :
https://www.washingtonpost.com/news/the-fix/wp/2015/11/03/how-to-remove-the-smoke-smell-left-by-a-previous-tenant-house-speaker-paul-ryan-edition/?utm_term=.53816c7dba9b
https://finance.yahoo.com/news/third-hand-smoking-remove-odor-145000249.html
CE Odor Removal ℠, CE Radon Testing ℠ , CE Kitchen Cleaning ℠ and CE Bathtub Refinishing ℠ are servicemarks operated by Calamus Enterprises Llc. Calamus Enterprises Llc is not responsible any damages (health and property) caused by the service. All services rendered hereunder shall be provided in accordance with all ordinances, resolutions, statutes, rules, and regulations of ATN and any Federal, MD State or local governmental agency having jurisdiction in effect at the time service is rendered.