CE Bathtub Refinishing
CE Bathtub Refinishing – Tub and tile refinishing is a professional bathtub reglazing solution via restoration process of a topcoat. We focus on resurfacing outdated counter tops, ceramic tiles, sinks and bathtubs with top-quality commercial grade materials, ensuring that our customers receive the best service possible.
To Pre-book our services please call 323-388-4855 Today!
CE Bathtub refinishing allows customers to design any style bathroom in any color scheme, without having to choose colors based on the original bathtub, sink, or toilet color. Ceramic tile can be repaired and resurfaced as well, allowing for complete bathroom color changes in a matter of hours, without disrupting the walls, plumbing or electrical work inside of a bathroom. Bathtub refinishing can be performed on porcelain, fiberglass and acrylic.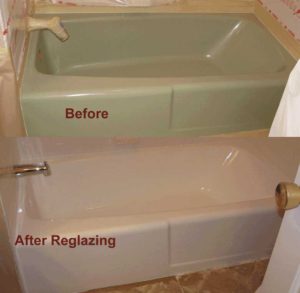 Over last 10+ years CE Bathtub Refinishing has worked across the U.S. on over hundreds of bathroom repair and restoration projects. Our technicians poses extensive training in the refinishing of steel, acrylic, fiberglass bathtubs and they take great pride in their craft.
Surface reglazing is hassle free, cost effective solution for a smaller bathroom renovation budget which can be completed in One day.
To Pre-book our services please call 323-388-4855 Today!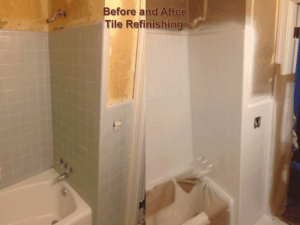 CE Bathtub refinishing offer tile and tub re-glazing with any color you choose from the pallet, grout sealing, minor cosmetic repairs of fixtures to give you that bathroom like NEW look again at a fraction of the cost of replacement. An average bathroom renovation project would cost you $2000-$5000. With us, you can save about 90% of remodeling costs. The tub resurfacing is done onsite, no pluming cost or demolition is involved . We use your existing fixtures and professionally re-graze them with very durable new coating, proving high gross surface, superior impact resistance and clean look.
To Pre-book our services please call 323-388-4855 Today!
CE Bathtb Refinishing Los Angeles Website
CE Bathtb Refinishing Los Angeles
CE Bathtub Refinishing Los Angeles California CA is serving following areas:
Beverly Hills, Chinatown, Hollywood, Lax, Little Tokyo, Melrose, Pasadena, Los Angeles, Anaheim, Santa Ana,Glendale, Santa Clarita, Garden Grove, Lancaster, Palmdale, Pomona, Torrance, Orange , Pasadena, Fullerton, El Monte, Downey, Inglewood, West Covina , Norwalk, Burbank, Compton, South Gate, Mission Viejo, Carson, Westminster, Santa Monica, Newport Beach, Whittier, Hawthorne, Alhambra, Buena Park, Lakewood, Lake Forest, Bellflower, Redondo Beach, Manhattan and Hermosa Beach, Long Beach etc.
CE Bathtub Refinishing Florida Miami website
CE Bathtub Refinishing Miami Florida Service Areas:
Aventura, Coral Springs, Davie, Deerfield Beach, Fort Lauderdale, Miami, Oakland Park, Opa-Locka,Pembroke Pines, Pompano Beach, Sunrise, Vero Beach, West Palm Beach, FL
Dont replace it, Re-graze it! Choosing bathtub refinishing over replacement also helps the environment by minimizing landfill from thrown away bathtubs and sinks, as well as other construction trash.
***If you are interested in becoming a professional bathtub refinisher, please contact us by phone or e-mail to discuss your career possibilities.
CE Bathtub Refinishing  pricing:
*Bathtub Refinishing (regular size tub) starting from $310
*Bathtub Stripping and Refinishing (regular size tub) from $375
Extra services:
*Needs chip repair (up to 3 chips)- starting from $50
*Caulking -$50
*Plastic tub and 3 walls -starting from $525
*Steel porcelain Tub and ceramic tile 3 walls – starting from $610
Extra services:
*Bathtub and walls are previously re-glazed -needs to be stripped -starting from $200
All our quoted prices are valid only by instant Cash or Check payments. For Credit Card Payments add 3% processing fee.
CE Bathtub Refinishing ℠ is servicemark operated by Calamus Enterprises Llc
Featured articles :
https://finance.yahoo.com/news/steps-refinishing-old-bathtub-130000678.html
https://finance.yahoo.com/news/bathtub-refinishing-solution-looking-old-131300267.html
https://www.yelp.com/biz/ce-bathtub-refinishing-san-diego-san-diego
CE Odor Removal ℠, CE Radon Testing ℠ , CE Kitchen Cleaning ℠ and CE Bathtub Refinishing ℠ are servicemarks operated by Calamus Enterprises Llc. Calamus Enterprises Llc is not responsible any damages (health and property) caused by the service. All services rendered hereunder shall be provided in accordance with all ordinances, resolutions, statutes, rules, and regulations of ATN and any Federal, MD State or local governmental agency having jurisdiction in effect at the time service is rendered.